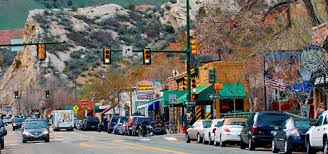 Located approximately 15 miles southwest of Denver, Morrison is a small community in Jefferson County. Encompassing just over 2 square miles, Morrison is well-known for its historical landmarks and the renowned Red Rocks Park and Amphitheatre. Because of its convenient location to the Denver metro area, Morrison residents have the benefit of close proximity to a major city while living in a small mountain town.

Climate
Morrison sits at an elevation of 5,764 feet with over 240 days of sunshine and almost 80 inches of snow per year. Average summer temperatures reach highs in the 80s, and winter lows drop into the teens.

School District
Students in Morrison attend the Jefferson County Public School system. Morrison has three public elementary schools (Parmalee, Red Rocks, and Kendallvue Elementary Schools) and two religious private schools that serve elementary and middle school students in grades K-8. Bear Creek K-8 and Bear Creek High School and Conifer High School serve Morrison students in grades K-12.

History
The Town of Morrison was named after its founder, George Morrison, who was a builder and businessman, specializing in mining for stone. He plotted the land for the town in 1874, brought the railroad companies to the foothills, and set architectural precedent with his stone and lime company's buildings.

Morrison is home to 10 locations listed on the National Register of Historic Places- including the LoDaisKa Site, an important archaeological area first inhabited by people of the Archaic through Middle Ceramic periods, 3000 BC to 1000 AD.

The Morrison Formation, the most famous place for finding dinosaur fossils in the US, was named after the town where fossils were first found in the formation in 1877.

Accessibility
40 miles from Denver International Airport in Aurora, Colorado

20 miles from Downtown Denver – Union Station (A line to Airport)

6 miles from Golden light rail station with free parking (W line to Denver metro)

20 local

restaurants

located in Morrison

5 miles from major grocery stores in nearby Lakewood



Leisure and Adventure
Locally Owned Businesses in Morrison
Blend- eclectic apparel and art

La Boutique des Boudreaux- antiques and collectibles

Meadowsweet Gifts and Wellness- massage and aromatherapy

Morrison Mercantile- crafts, accessories, cosmetics, and gifts

My Sister's Attic- boutique and event venue

Rock N' Roses Boutique- souvenirs