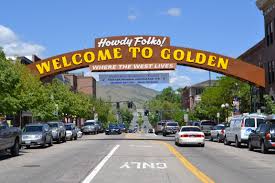 Named after Thomas L. Golden, Golden, Colorado is located at the front range of the Rocky Mountains. With a population of approximately 18,667 people, the median household income is $58,630. This beautiful city is a convenient 25 minutes from Denver, located just north of I-70.
Climate
Golden experiences 242 days of sunshine while sitting at an elevation of 5,675. Golden experiences warms summers with temperatures of 70-80 and an average of 26 inches of snow per year.
School District
Golden is home to five elementary schools and the oldest Senior High School; Golden High School. All public schools are under Jefferson County Public schools. The town is also home to the regionally-accredited Engineering school; Colorado School of Mines.
For more information on Golden, visit their Chamber of Commerce site: http://goldenchamber.org/